Bookmark our weather page for
fast
weather !
"How To Start A Low Power FM Radio Station"
by Stephen Kafka

"How To Apply For, Build and Operate A Low
Power FM Radio Station" by Stephen Kafka
"The LPFM Guidebook" by Stephen Kafka


What Is A Low Power FM Station ?
The Low Power FM (LPFM) radio service was created by the Commission in January 2, 2000. LPFM stations are authorized for noncommercial educational broadcasting only (no commercial operation) and operate with an effective radiated power (ERP) of 100 watts (0.1 kilowatts) or less, with maximum facilities of 100 watts ERP at 30 meters (100 feet) antenna height above average terrain (HAAT). The approximate service range of a 100 watt LPFM station is 5.6 kilometers (3.5 miles radius). A construction permit is required before an LPFM station can be constructed or operated. List of LPFM stations : http://lpfmdatabase.weebly.com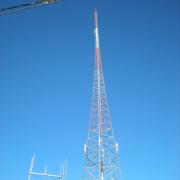 Introduction

NOW THAT YOUR GROUP, CHURCH, OR SCHOOL WANT TO BUILD, OR HAVE APPLIED FOR A LOW POWER FM, DO YOU KNOW HOW TO BUILD IT FOR LESS THAN $5,000, WITH NEW EQUIPMENT ?
AND, HAVE IT COVER ITS OWN EXPENSES, RIGHT AWAY, AND EASILY PAY FOR ITSELF IN LESS THAN 1 YEAR ?
AND, GIVE YOUR STATION MANAGER/DIRECTOR A YEARLY SALARY TO LIVE ON ?
IF NOT, SEND FOR THIS eBOOK !!!

Inside You'll Find ;
-A complete copy of all FCC rules, regarding LPFM.

-A guide to revenue producing programming, to make your station self-sufficient.
-A list of equipment suppliers, and costs for necessary equipment.
-Sources of local, low or no cost, qualified, engineering/ construction help.

-Source list of low, or no cost 24 hour programming, and reduced cost cd's, etc.
-A listing of all the licensing fees you'll have to pay on a yearly basis, to stay legal.
Plus, You'll Also ;
-Learn how to operate your station unattended.
-How remote broadcasts can be a goldmine for a LPFM.
-Internet streaming equipment, and information.
-How independent programmers can greatly benefit your station.
-How to get a volunteer worker program established.
-What you need to know about the Emergency Alert System. What equipment to buy, studio to transmitter links, and much more.
THIS eBOOK WILL PAY FOR ITSELF REPEATEDLY !!!!!!
Recent (2014) Unsolicited Testimonials :
"Thanks Steve, it has already helped, the antenna length will be 80 foot, if City ordinances don't let me its nice to know I can go 60 foot with or without there permission, thank you so much, I really needed this book, and I have not had the time to read it from page to page yet I just skimmed through it, I love it
my only hold up now is my registration to the AFF, then I believe I will get my construction permit, i am a singleton and that great !"
Bill

"Steve, Thank you so much! I appreciate your helping us." Sincerely,
Jo
"Thanks so much for the book--it is already filling our radio station crew with tons of ideas. Guaranteed to pay for itself many times over!"

Stephen,
I purchased your book...great stuff!

-Over 250 copies of this eBook have been sold to LPFM applicants and new licensees, as of 12/2018. Including churches, schools, colleges and universities, state and local government entities and other groups.

To purchase this eBook, (16MB PDF) with "instant download"
from Payloadz.com for $35,
secured by Paypal, click the "Buy Now" button below:
We now have our own MOBI (Kindle) version of this eBook for sale.
You get both the MOBI, and a complimentary PDF copy to download.
Please click the "Buy Now" button below, for the MOBI & PDF versions for $40,

secured by Paypal, with "instant download" from Payloadz.com :

An ePub version is now available also, with a complementary
PDF copy for $40, secured by Paypal, with "instant download"
from Payloadz.com."Click" below:
Por favor, haga clic en el botón "Comprar ahora" de abajo para ordenar este libro por
$35. Asegurado por Paypal. Viene con una copie de cortesía Inglés para "hacer clic" direcciones de
sitios web, y para mayor claridad. (16 MB PDF). La "descarga instantánea" es de Payloadz.com :
Ahora tenemos nuestra propia versión MOBI (Kindle) de este eBook en venta.

Usted consigue el MOBI, y una copia en PDF gratuito para descargar.
Usted recibirá tanto MOBI y PDF Inglés y español. Por favor, descargue todos los materiales.
Por favor, haga clic en el botón "Comprar ahora" a continuación, para la MOBI y versiones en PDF
por $40, asegurado por Paypal, con "descarga instantánea" de Payloadz.com :
En la actualidad existe
una versión
ePub
del libro electrónico
disponible, con una
versión en PDF


complementaria
,
por $ 40
.
Asegurado
por Paypal
,
La descarga es
una
"
descarga instantánea
" de
Payloadz.com. Por favor, "clic" a continuación:







The eBook is also available in MOBI from Amazon for $40,

and in ePub from Barnes & Noble/NOOK and Smashwords, also for $40.

Thought I should get a mask. $5.27 delivered 4 days, off eBay. Face Mask Reusable Washable Covering Masks Fashion Clothing Men Women,
or just search "face mask".
Material may seem thin, but very comfortable, and should be adequate. Rated Safety Level Class B, China standards.
They have several at good prices, delivered USPS from US dealers, on eBay.
https://abcnews.go.com/GMA/Wellness/video/face-masks-provide-best-protection-71550321
Stephen G. Kafka, Consulting Broadcast
Engineer has the experience
to help you succeed!














About Us
We are experienced, highly qualified, and discreet professionals, with excellent references and a broad range of project training.
Services
We have years of experience to help you get the job done.
Experience

Former owner KIAE(FM) Aurora, NE 1980-85, (built from scratch and sold station in '85) and former owner/operator K61CU-TV Lincoln, NE 1990-95, (performing the initial engineering work, to the actual construction and operation).

Applicant for several FM stations from 1983-87. (sold out to competing applicants in Kearney, NE, Aspen, CO, Laramie, WYO, Red Lodge, MT, Kingman, KN, etc) .

Wrote a book on low power FM stations, for aspiring owners, in 2002. Sold around 50 copies to applicants on file, with a very limited direct mail campaign.
K61CU-TV Lincoln, NE. ch. 61. March 1990. 810 watts at 150ft, 400 watts at 300ft, then 6KW at 250ft. Intercity relay microwave 13,012.5 mhz (A federally licensed low power, over-the-air TV station Ch. 61).


Low powers now have regular type call letters like K J J J. The station broadcast music videos to start with, mainly aimed at the Univ of NE students who lived on campus. The University hadn't allowed Cablevision onto the campus, so the kids only had the major networks, 1 independent station (KPTM) and 61TV. (No Dish or Directv back then.) Programming started to include live sports feeds (football/basketball), classic movies, etc. An independent survey found that Ch. 61 had as many viewers as the #1 radio station had listeners. most times of the day. Back then, Nielsen refused to even list low powers, even if they had a sizable audience. The reason was never explained. They now do carry them, if they qualify with a large enough audience.


KIAE(FM) Aurora, NE (now KRGY-FM) March 1, 1980 103.1 mhz, 2.25KW at 90ft with a construction permit for 3KW at 250 ft.

The station started with a classic rock format, with classical music on Sundays from 6am -Noon. Quickly we added sports from the local team, the Aurora Huskies, the other schools in the county, Legion Baseball, and Univ. of NE sports. The format changed to country after awhile, then back to classic rock, and ended with a blues/rock format. One week before Christmas the station always went total Christmas music, with hours sponsored. Sports airtime was sold to a contract broadcaster, after the first 2 years, but the station did do it originally. Was the origination station for a 4 station network, set up to broadcast the basketball championships from Aurora a couple of times. No automation until last 1 1/2 yrs. All but one DJ trained on-the-air. About 10 total. Sold 1985.
Nebraska Library Commission, 1974-78.
"How To Apply For, Build and Operate a Low Power FM Radio Station"
Stephen Kafka
January 1, 2002


The book was available on Ebay, from Harlan's Warehouse, Harlan Jacobsen owner. It gives a how-to on the process, with a detailed look at how to make money with the station, to pay for itself, a manager and small staff. It includes a copy of the FCC rules and regulations. It was initially sold thru a limited direct mail campaign, to then current applicants, and later, downloadable online. Sold approx. 50 copies.

To order a newly revised version of the eBook on PDF (16MB), or MOBI (Kindle)

"Click" the "Buy Now" buttons above !

(also available in spanish)


The book is also available from Amazon/Kindle,
NOOK (Barnes and Noble), and Smashwords
for those with a MOBI or EPUB reader. Spanish
is available in both formats. The cost is $40.
More information on Stephen Kafka at Linkedin:
www.linkedin.com/in/stephen-kafka-5774a363



Our Commitment

You can trust that your business and personal matters will be handled with professionalism, integrity, and the utmost discretion. The end result will be accurate, on time, and get you great results.
Your radio or TV station project will be handled expediently, ranging from, for example, acquiring the rights to tower sites, to filing all necessary FCC paperwork for all minor and major engineering changes, to full licensing.
Our email address is skafka7@gmail.com